If you're looking to holiday in style, this bad boy is for you.
They have a find swimming pool and a villa house for 6 people. There is a sister villa the owners have so you can holiday with other families while keeping some family privacy – get together – get peace.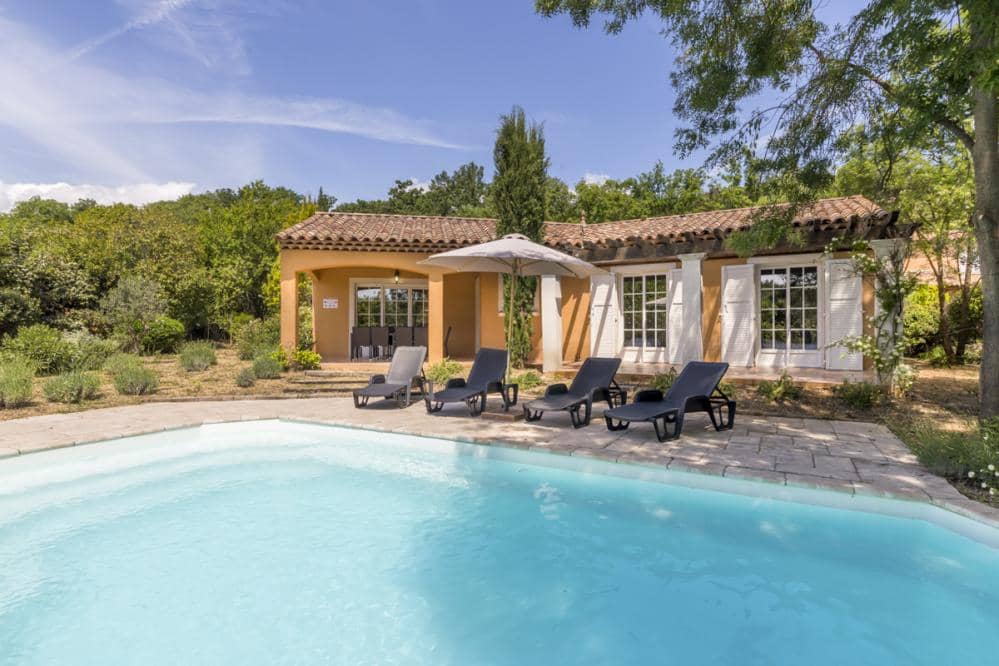 Nestled in the stunning hills of the Côte d'Azur, and in close proximity to some of the region's most charming hilltop villages, lies Fresia I, a delightful villa with a private swimming pool set within a beautiful resort offering fantastic activities suitable for all ages.
The villa, located on a single level, is thoughtfully furnished with comfortable and elegant touches that provide a homely and Provençal atmosphere. The bright and welcoming living space features patio doors that lead to a charming al-fresco dining area, while two of the three lovely bedrooms also have French windows that open out to the inviting swimming pool. The villa's contemporary yet characterful vibe is further enhanced by the addition of a modern bathroom and shower room.
Enjoy delicious meals in the shaded porch while admiring the beautiful gardens and swimming pool, surrounded by the serene Mediterranean greenery, olive trees, and lavender. Take little steps down to the terrace and indulge in lazy days spent splashing around and cooling off in the perfectly sized pool under the warmth of the sun.
For those seeking larger accommodation, Fresia II, a 3-bedroom villa, is also available within the same resort, just a short walk away. Both villas are strategically placed to offer breathtaking views of the lush hills and verdant gardens, while the resort's amenities are conveniently located only a few minutes away.
This charming resort comprises private villas, rooms, and apartments, as well as two large communal pools, a restaurant, and children's activities during the peak summer months. You may also prefer to unwind by playing a leisurely game of boules, enjoying a relaxing drink in the bar, or returning to your private villa and pool.
Surrounded by the captivating and incredibly beautiful perched villages, you will have the opportunity to explore local markets and soak up the idyllic atmosphere of this breathtaking region. The area also offers a wealth of outdoor activities, such as cycling, walking, golfing in stunning settings, and a world-renowned flying school in Fayence. Water enthusiasts may try out some fantastic watersports at the nearby Lac de Saint Cassien or visit some of the French Riviera's finest beaches located around Théoule-sur-Mer and the glamorous city of Cannes, just forty minutes away.
Whether you seek adventure or relaxation with family and friends, Fresia I is a charming holiday home that offers a comfortable and peaceful retreat in the beautiful southern France.
Here are some useful notes to keep in mind:
If booking Fresia I and Fresia II together, please note that there is a short walk between each villa.
Children's activities for ages 4-12 are usually available every weekday during the second week of July to the end of August, limited to three sessions per child, and subject to availability.
Teenagers aged 12-17 can also enjoy kid's activities three times a week during the high season only.
In the summer months, there is evening entertainment available for all ages three times a week!