Set in the Cote D'Azur – these are 2 stunning villas in the remote hills.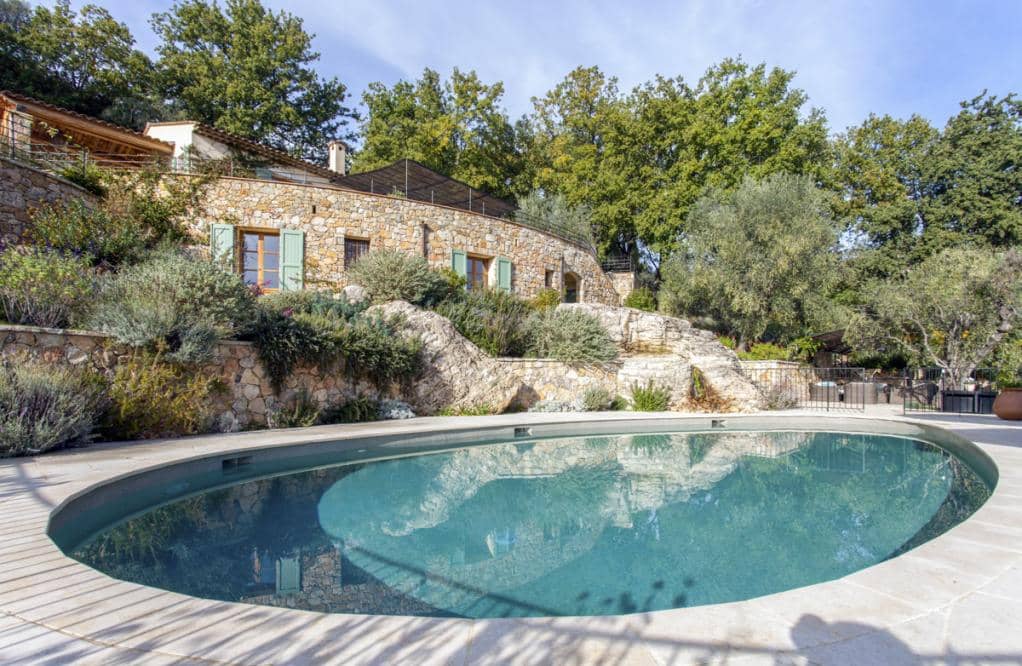 Ideal for holidaying with your family and your old chums.
Rarely do villas evoke such a sense of calm, aesthetic harmony, beauty, and perfection as Villas Jolie & Zen. These two stunning villas are nestled on a hillside amid beautifully landscaped gardens, overlooking a woodland area with views up to the ancient village of Châteauneuf de Grasse. While Villa Jolie sits above the slope, Villa Zen is just below, and each villa is designed to provide a private and independent living space, yet they are ideal for larger groups who wish to share the estate.
Indoors and outdoors, magic abounds, with high-quality furnishings, meticulous attention to detail, soothing color schemes, original artwork, and more. These spacious and bright luxurious family homes offer a range of creature comforts, including air conditioning, en-suite bathrooms, high-end equipment, a gym, a TV den, a wood-fired pizza oven, a large gas barbecue, and even a children's play area. The beautiful gardens are filled with lavender, rosemary, olive trees, and two stunning pools and terraces complete the perfect picture.
Despite all the comfort and beauty, guests will find everything they need just steps away. The village is a quick 10-minute walk, while markets in Valbonne and Mouans Sartoux are only minutes away. Antibes, with its Aquapark, and Cannes are only 18-22km away, and the charming artists' village of Saint Paul de Vence is a mere 30-minute drive. Nice is also easily accessible, just 35km away.
For those who desire the privacy of a personal villa along with the luxury and convenience of a hotel, Villas Jolie & Zen offer the perfect solution. With the Vill'otel option, guests can arrange for breakfast, cleaning services, welcome drinks and hampers, and more. Simply check the Extras tab for full details. These villas are a perfect blend of natural and man-made beauty, showcasing the very best that the French Riviera has to offer.